Extension hoses
Extension hoses used to create a flexible connection between a needle nozzles or hydraulic couplers to a grease gun. The extension hoses are produced from highly flexible high pressure hose with a minimum bending radius of 20 mm, and maximum burst pressure of 800 bar. One end is fitted with a 1/8 NPT(m) swivel coupling, the other side with a fixed 1/8 NPT(m). Standard hoses are 18" and 36", any other required length can be delivered at request. These flexible hoses allow you to have easy access to these difficult to reach lubrication points, the swivel coupling avoids twisting forces on the hose increasing the hose lifespan.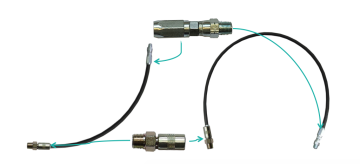 About us
Since 1954 we're active in the aviation industry, our relationship with aircraft manufactures and airlines resulted in a series of specialized lubrication tools for the lubrication of aircraft.
We are combining proven technology of large manufacturers like LINCOLN Industrial with our own specialized products, resulting in a lubrication tools program enabling you to easily reach the most difficult accessible lubrication points in your aircraft's. Is the lubrication needle or coupler not part of our standard program? We can produce any type of lubrication needle for you.
Our first lubrication needles were originally developed for Fokker aircraft but now widely used by our customers for lubrication of their fleets, from large Boeing 777 to small Embraer 190.