Needle nozzles
Needle nozzles are used for lubricating lube points installed with a flush type lubrication fitting.
Our lubrication needles are constructed of bendable seamless steel tubing and fitted with a hardened steel nozzle tip.
This construction enables you to bend the needle in the shape you need to reach those hard to reach lubrication points.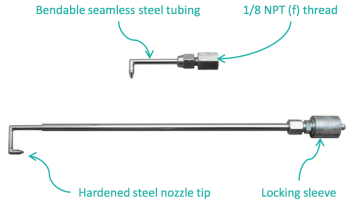 Depending on the type the needle nozzles are fitted with a 1/8 NPT (female) thread or a locking sleeve.

Needle nozzle straight 5803X
Needle nozzle, straight, lengte 73 mm, needle ᴓ4 mm,
connection 1/8 NPT(f)
Needle nozzle 90˚ 5803XA
Needle nozzle, 90˚ angle, length 67 mm, needle ᴓ 4 mm,
connection 1/8 NPT(f)
Needle nozzle 30˚ 5803XB
Needle nozzle, 30˚ angle, length 80 mm, needle ᴓ 4 mm,
connection 1/8 NPT(f)
Needle Nozzle 90˚ 5803L
Needle nozzle, 90˚ angle, length 67 mm, needle ᴓ 4 mm, connection locking sleeve